Oh, how time flies when you're having fun…
So, what's new? Glad you asked.
The renovations are done. The new Wishingline Design Studio, Inc. office looks great although we're still not completely done with it yet. Everything turned out really well and we're exceedingly happy to finally have an end to the dust, piles of 2×4's and plastic sheets.
The newest Wishingliner seen here is now less than two weeks away. A big congrats to my buds Luke and Mathew on their latest additions.
On the business front, things have been a bit crazy. Work is good. Too much work all at once is also good, but in a painful kind of way.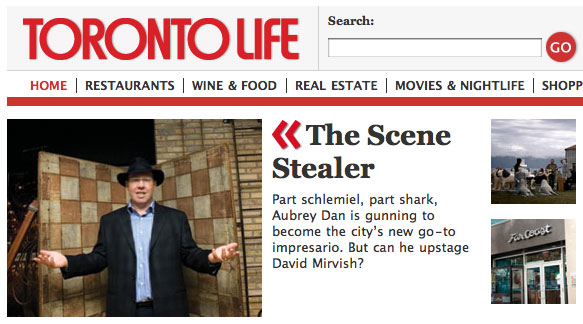 We recently completed some additional work for Toronto Life although it hasn't gone live yet. We've also been working with some new and some old clients on identity design, web application and site designs and redesigns with more on the way.
Some of this work literally just wrapped so it's still a bit early to really say much, but when it's time you'll hear about it. Until then, here's a bit of a tease.

The Darns were nominated for a Toronto Independent Music Award for "Best Alternative Act", but sadly did not win. Maybe next year. And the band is finally celebrating the release of 'What It All Turns Into' on November 18th with a big CD release bash in Toronto. Next up — something that hopefully resembles a tour.
There's also been a few small changes and tweaks made to the site such as the newish homepage graphic, the little availability info on the homepage (also repeated elsewhere through the site), and an upgrade of Movable Type and the newly released phpFlickr 2.0 scripts which use Flickr's new serialized API. I only had to modify one line of code to update my scripts to work with the new release which was a nice surprise.
That all aside, there's still a boatload of work piled up and I should probably start in on it now. I'll try not to let another month slip by…