After a long transition, I've officially made the move over to TextMate from BBEdit during the last 6 months or so as the amount of Rails development I've been doing has increased. In that time though I haven't had much opportunity to really dig into some of power features or to really even get a handle on all the keyboard shortcuts which brings us to the impetus behind creating this desktop — to help improve my (and possibly others') TextMate skills.
You can download the Desktop here in all it's 1920 × 1200 glory. Sorry, I don't plan on making smaller versions.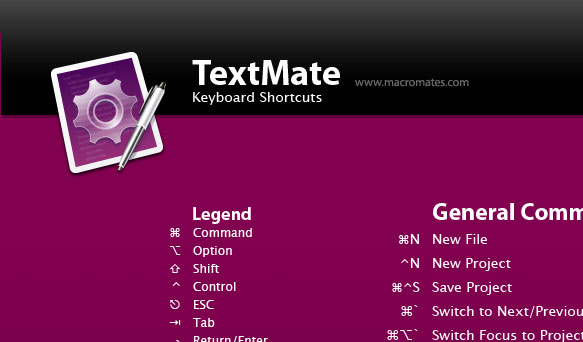 Update
I changed my mind since there's been enough interest that I've put together a smaller 1280 × 800 size version for MacBook users (myself included). You can grab the smaller version here and a new, updated large version here (with a correction suggested by Wolf Rentzsch).
Comments and suggestions for improvement are welcomed.