My good friend, and one heck of a funny guy, Garrett Murray asked if I'd be interested in sponsoring a little contest he's having to rename his critically-acclaimed comedic podcast, and of course — how could I say no?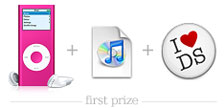 The rules are simple: send in your ideas on a new name for the podcast (full contest details here). Send as many entries as you like before June 1st to qualify for the chance to win a spiffy new 4GB iPod nano in your choice of colours, a set of DS Buttons and a personalized message from Garrett and his partner in hilarity, Shawn Morrison. There's even a pair of runner-up prizes which aren't half bad either.
What are you waiting for? Get on it!