In releasing Creative Suite CS3, Adobe forgot, or for whatever reason decided not to update the Flash Player icons as part of the general installation thus adding one of a few rough edges around what is otherwise a pretty good software package (truly horrible and inconsistent software updaters aside).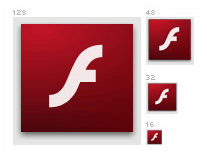 Although there are a number of different sets of replacement icons for the various Creative Suite applications to be found around the net, for myself at least, I prefer having something that blends in seamlessly with the originals, at least until Adobe releases a proper update (since we know they've designed the icon already). Therefore I took it into my own hands to put something together and have decided to share it.
Included are resources for the Mac OS X and Windows versions (sorry, no 512 px versions yet) along with 16, 32, 48 and 128px transparent PNGs. I will not be releasing the PSD source for this, so don't bother asking. Thx.