The idea of mixed tapes seem to be all the rage again among a number of my interweb friends, so in the spirit of the season and because I remember how much fun I used to have making them years ago, I'm tossing my hat into the mix tape ring too.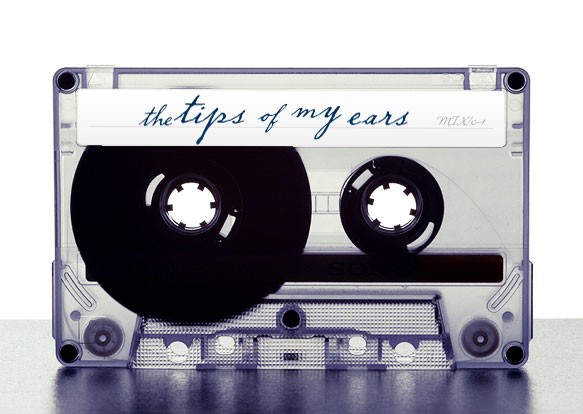 Although this one doesn't really have an obvious theme throughout aside from being songs and artists that I enjoy, I do have a second one lined up (if there's sufficient interest) which does have a stronger musical thread throughout. But enough yammering… here's what's on the (virtual) tape.
Download 'The Tips of my Ears' (61MB/m4a bookmarked format)
You Remind me of Home - Ben Gibbard. A simple, catchy acoustic tune from a split album he did with Andrew Kenny of the American Analog Set. I love the guitar lick throughout the last bit of the song.
Please Read the Letter - Robert Plant and Alison Krauss. A track from the unexpected and surprisingly well matched duo. One of my favourite albums from this past year.
Virtute the cat Explains her Departure - The Weakerthans. Quite possibly the best and most poetic Canadian band to come out of Winnipeg. This song is both funny and yet incredibly sad. To fully appreciate it you also need to hear "Plea from a cat name Virtute" from their previous album called "Reconstruction Site".
Midnight Coward - Stars. Gotta make sure Montreal is representing! One of my fave tracks from their latest and possibly best album.
White Lightning - Danny Michel. Probably not known outside of Canada, but Danny's a phenomenal songwriter, inventive guitar player and captivating to watch perform. And he did an entire album of David Bowie covers which is really cool.
Debaser - Rogue Wave. Go indie rock! This is a great take on one of the more well known Pixies tracks and has a great groove and really cool drum parts and multiple harmonies happening throughout.
Rise Up - Glen Phillips. Performed live with his Mutual Admiration Society partners otherwise known as Nickel Creek. You likely know Glen not from his great solo work, but from his past work as the lead singer in Toad the Wet Sprocket.
Johnny Rouke - Elliott Brood. Yet another Canuck export. Guitarist Casey used to work with a few friends of mine and even helped out as guitar tech at a few [Darns][thedarns] shows. A great live act if you ever get a chance to see them. It's not often you see a drummer who uses an old suitcase for a bass drum.
Second Chance - Liam Finn. Son of Neil (of Crowded House). He looks and sounds remarkably like his father and clearly has many of the same songwriting sensibilities so he'll definitely be someone to watch over the next few years.
Drunk Teenagers - Joel Plaskett. Ok, one more Canadian. This song has rawk written all over it.
Shadow Falls - Hello, Blue Roses. Otherwise known as a Dan Bejar (he, of Destroyer and The New Pornographers) collaboration, but something a little different. Based on this, I'm looking forward to hearing the rest of the album when it's released.
The Thief - Jeremy Larson. I don't really know anything about this guy other than I came across this track ages ago and really loved the production.
If I Live or If I Die - Cuff The Duke. I don't really know where these guys would fall categorically (maybe a little country, some rock, a bit bluesy), but it doesn't matter because they're just plain good. Great counterpoint melodies happening in this particular track.
Oh, and I even included some artwork to go along with it. Nothing fancy, but better than nothing!