It's been nearly a month since I put together the last mix tape and a new tape felt like a good way to start the year off; this time under the guise of celebrating music and/or artists from my home and native land. Yup, this one's all Canada.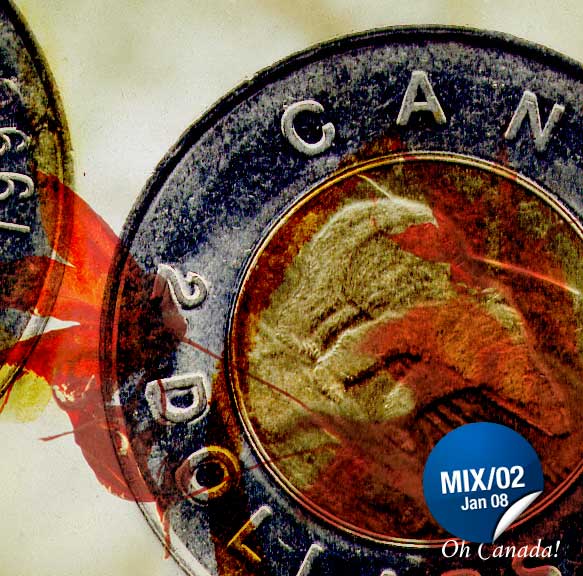 These tracks comprise, for me, either quintessential Canadian artists or in maybe one case, that artist's quintessential song - the one they may be most well-known for. In a few cases, I just picked oddball songs that I happen to really like. Bear in mind it's not intended to be the essential Canadian artists or songs, but rather just some that speak to me for various reasons.
Download 'Oh Canada!' (56MB/m4a bookmarked format)
Far Too Canadian - Spirit of the West. What some might describe as a typical Canadian conscience.
Of Montreal - The Stills. While I have no idea whether this song really has anything to do with the city of Montreal or not, it does have a great rhythm and even after a few years this track still sounds fresh to me.
Tournament of Hearts - The Weakerthans. What can possibly be more Canadian than a band from Winnipeg and a song about curling?
Bass Song - Hayden. A slightly twisted story about being murdered while recording a song.
Seventeen Seconds - Cowboy Junkies. Although outside of the country, the Junkies are probably best known for their version of "Sweet Jane", this has got them covering The Cure; and a really old Cure track at that.
Execution Day (Live) - The New Pornographers. Dan Bejar. Neko Case. Live. The counterpoint melodies between Neko, Dan and Carl that start about halfway through this track are killer.
Fifty Mission Cap - The Tragically Hip. A song about our national sport — hockey, Bill Barilko, the Leafs and the Stanley Cup. Pure Canadiana.
Metaphor - The Pursuit of Happiness. Singer Moe Berg and

TPOH

are a true Canadian classic. An older incarnation of the guys I write and play music with opened for them back in the mid-to-late nineties which was a real treat and a lot of fun.
10th Grade Love - Treble Charger. Treble Charger, a band that started out with a true

DIY

indie spirit sadly slowly faded away but left us with a few real gems like this track which brings me back to my university days in the early 90's.
Silver Road - Sarah Harmer with The Tragically Hip. The better version of this particular track, featuring The Hip as her backing band. This song fits in beautifully with the movie and soundtrack from which this version came.
The Tigers Have Spoken - Neko Case. Recorded in Toronto at the legendary Horseshoe Tavern with the Sadies. Oh, to have been there for this show…
The Tower of Learning - Rufus Wainwright. A favourite track featuring one of my favourite melodies. It's big, full of pomp and just plain gorgeous.
The tape, as with the previous one has been assembled as a bookmarkable m4a file with chapter tracks (and album art) making it easy to jump between songs.