Although not a meme (that I'm aware of), maybe it should be — here's a look at my workspace at Wishingline HQ. I'm a notorious neat-freak, but I also like gadgets, figures and other trinkets to keep me interested, inspired and hopefully productive.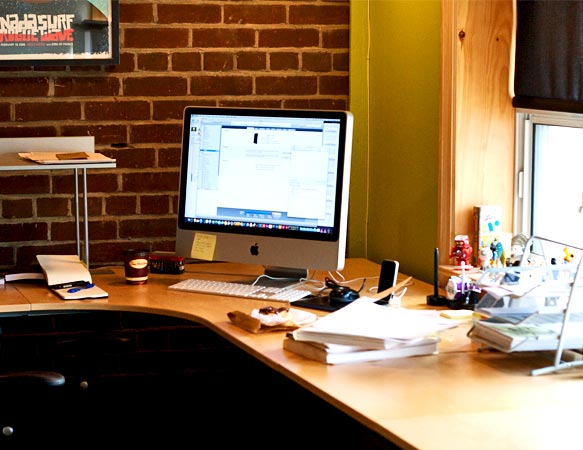 On my desk is:
iMac 24"
Apple iPhone 2g
Tim Hortons coffee and chocolate dip donut
Powell & Hyde Cable Car candy holder used for business cards
Robot pencil sharpener
Finger drums
Wacom Bamboo tablet with mouse and stylus
Stack of in-progress project folders
Moleskin notebooks
Field Notes notebook from

AEA

Boston
Set of Simpsons miniature figures
Simpsons trivia card game
Three sets of Tim Burton "Oyster Boy" figures
Bills, receipts and other miscellaneous paperwork
A copy of "Designers are Wankers" by Lee McCormack
Veer's "I draw pictures all day" sketchbook which is used to house our crazy ideas (just out of frame)
What's on your desk? Feel free to share if you're so inclined by posting either a photo or a link in the comments. Photos should be sized to 523px wide by (ideally) a multiple of 9 or 18.