I started feeling like my Summer of George was blowing by a while back and so I started thinking about putting together another digital mix tape, this time comprising some of my favourite album closers.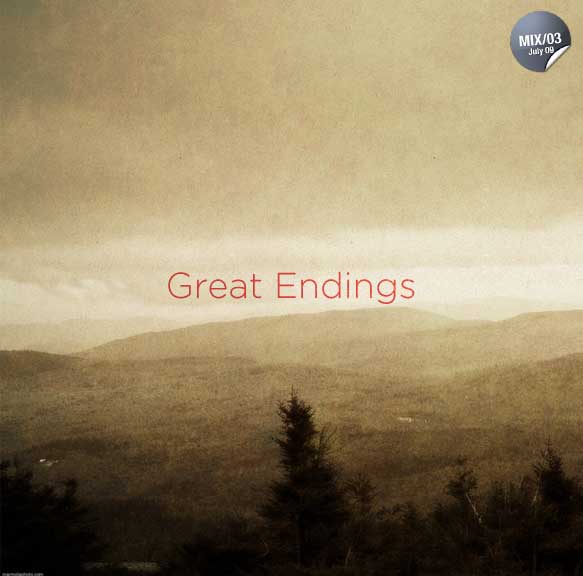 Narrowing down a list of around 50 songs to a more reasonable 12 proved to be surprisingly difficult but I think this is a fair representation of that larger collection.
Download 'Great Endings' (97.4MB m4a bookmarked format)
It's All Gonna Break - Broken Social Scene. Let's just get the hipster quotient out of the way first, shall we? But seriously… Start with the rock, end with the rock.
Thunderstorm - Matthew Sweet. Clocking in at over 9 minutes and taking a page from Phil Spector's "wall of sound" methodology, this song covers a lot of musical ground and has been a personal musical staple for a long time.
Find The River -

R.E.M.

A desert island pick and arguably the best rock record released in 1992.
It's Not - Aimee Mann. Gets my vote for saddest song ever. I don't think it would have worked nearly as well if it weren't the closing track on her "Lost in Space" album.
Words (Between the Lines of Age) - Neil Young. The rawness and immediateness of the lead guitar tone and the underlying shuffle feel still gets me after so many years.
Reservations - Wilco. A beautiful ending to their "Yankee Hotel Foxtrot" album.
Satisfied Mind - Jeff Buckley. As much as I like him, Buckley can be a bit hit or miss but I think this track from his posthumous "Sketches for my Sweetheart the Drunk" sums up the way he lived his life. We all could be so lucky.
Impossibilium - The Tragically Hip. This for me is a bit of an odd pick but The Hip have had a special place in my music collection for such a long time that it would be wrong for me to exclude them. Besides, there's few lyricists I can think of as brilliantly weird as Gord Downie.
Utilities - The Weakerthans. The lone band so far to make the cut in all three mix tapes I've put together, and as always they remind me that great lyrics and great melodies will always win.
Together Alone - Crowded House. Neil Finn is incapable of writing a bad song.
It - Genesis. The closing track from the band's 1974 double album "The Lamb Lies Down on Broadway" with then lead singer Peter Gabriel. This is not the Genesis you know - trust me.
I Shall Be Released - The Band. A true classic and deservedly on any best of list.