We didn't exactly plan it this way, but Zeldman declaring this past Tuesday, November 16th World Type Day was fortuitous. Perhaps serendipitous even.
Luke and I, along with the incomparable assistance of Carolyn Wood originally planned to launch our new little experimental venture, Ligature, Loop & Stem the previous week but enough pieces weren't quite ready for prime-time that we pushed it back a week.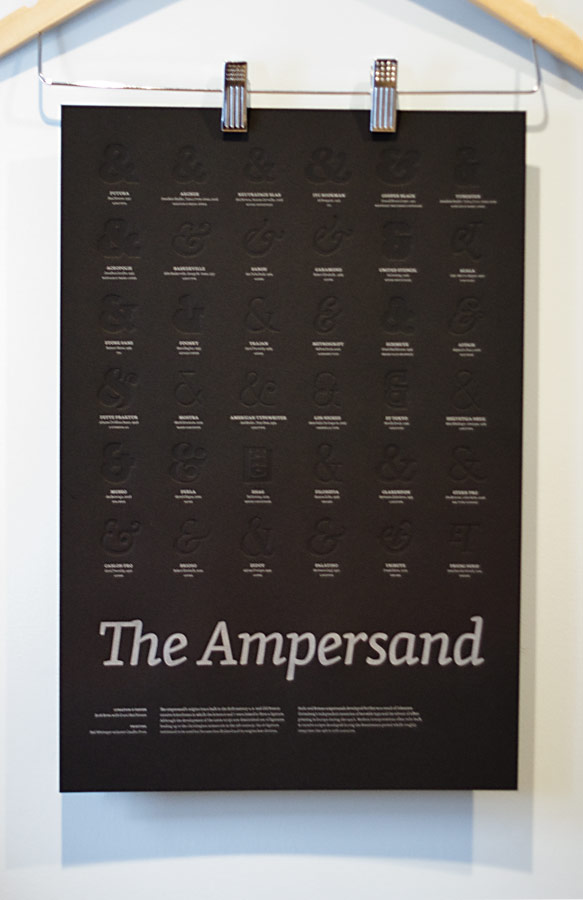 Based on the immensely positive responses we received throughout the week — it seems we did something right and are sincerely humbled, excited and frankly a bit overwhelmed. Selling out the initial collection less than 72 hours after launching the site was… at least a little unexpected (by me anyway).
Of course there's still some lovely (and free) ampersand wallpapers available for your iPhone or iPod touch to tide you over until the next limited edition pieces are ready to go — which we expect will be sooner than later.
Setting
LL&S
In a lot of ways, the idea for LL&S came out of nowhere. At the same time, it's at the core of what I've felt has been missing from my work over the last couple years; the genesis of it has been biding it's time on pages in one of my Moleskines in some form for nearly as long.
When I mentioned my initial ideas behind LL&S to Luke I knew he'd be on board, the same with Carolyn, who I've searched for a good opportunity to work with for as long as I can remember and who put in 150% the whole way through. Luke and I had been talking for a little while about teaming up in some fashion and this became the perfect vehicle to get the ball rolling.
LL&S mixes Luke's and my design sensibilities, love of the web, typography and design history while allowing us to explore ideas that don't fit the constraints of typical client projects such as non-traditional navigation, interactions that mirror the real world, and hiding little inside jokes in and around the site — you did find all of them right?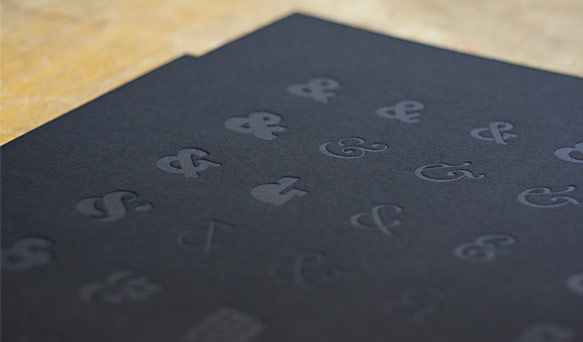 Unfortunately the web isn't widely recognized for stellar typographic design. Advances in CSS, services like Typekit, and some inventive web designers experimenting with type to more closely connect it to the message of a site as print designers are more apt to do will slowly change that perception.
We wanted something that could bridge the gap between the possibilities of print and the web, with a little industrial design thrown in for good measure. To do our bit in changing perceptions and that essentially gave us complete creative freedom.
Perhaps the larger vision behind LL&S is that we wanted to experiment with making stuff we'd want for ourselves just as much as we hoped other would too — ampersands seemed like a good place to start as any. That said, we're not restricting ourselves to just producing print pieces. The sky's the limit. Exactly how some of the ideas we're already exploring materialize is anyone's guess.
We think we've got some interesting stuff in the works. If we can continue to surprise and delight then in my books, we've accomplished what we set out to do.
Credit
Luke and I would be remiss to not explicitly thank our good friend and walking encyclopaedia of all things typographic, Grant Hutchinson who I asked to help curate the Ampersand print with me. Also, writer, editor, idea generator and all-around whip cracker Carolyn Wood, without whom we might still be waiting at the gate because the copy on the web site would have been, well… nowhere near as good as we think it is now, which is pretty damn awesome.
For everyone else, close to home and around the world (the internet sure makes the world a small place) — thank you as well. Thank you for the kind words, retweets, links and for simply making the launch a resounding success by buying up everything so quickly!
Next Up
Part of the point of LL&S is just us following our instincts. We know there's room to improve the site, particularly around navigation and little bits of the overall user experience. Thankfully we've got some ideas that don't compromise our original vision and should improve the situation.
Even before we get to that though, we need to get the first collection of products in the wind and on their way while pushing ahead with the next collection (which we promise will not feature ampersands).
For updates on product shipping, new products, specials and more — follow ligloopstem on Twitter.