Way back in September (it feels like eons ago to me) I put together a digital mix tape of cover songs. It went over pretty well and there was a big pile of songs that didn't make the cut. More importantly though, there was enough demand (though it might just be because Luke told me to) to warrant a sequel — so here it is.
I think there's perhaps a bit more range in this one than the first, but I'm pretty close to these songs so it's hard for me to say without feeling somewhat biased about it.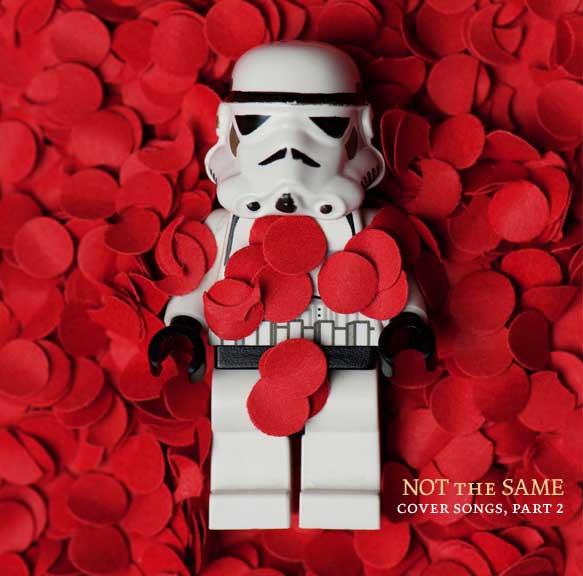 Creative Commons Photo used in the cover art by balakov / CC BY-NC 2.0
Download 'Not the Same' Part 2 (93.03MB m4a bookmarked format)
Rocking Chair - Death Cab for Cutie (original by The Band) - There was a reason they were called The Band and Death Cab does them proud here. The addition of horns to the mix adds a little something new to the band's already well-honed sound.
Supernatural - Live (original by Vic Chesnutt) - Live never proved to be a great live band (IMO) but this was a solid, stirring highlight from their 1995

MTV

Unplugged performance. It was also my introduction to the songs of Vic Chesnutt which I immediately began to search out.
Reason to Believe - Aimee Mann & Michael Penn (original by Bruce Springsteen) - A great cover from one of indie-rock's favourite husband and wife duos. From the tribute to Springsteen's 1982 "Nebraska" record.
Between the Bars - Metric (original by Elliott Smith) - Acoustic Metric + Elliott Smith = awesome. What else is there to say?
She Said, She Said - Matthew Sweet (original by The Beatles) - One of the rockier tunes from The Beatles' 1966 "Revolver" record, this version gives a good taste of what seeing Matthew Sweet live is like.
Will He Be Waiting for Me - Sarah Harmer (original by Dolly Parton) - I don't care for Dolly Parton herself but there's some good songs in her back catalogue as the White Stripes and Sarah Harmer have proven.
If You Tolerate This - David Usher with My Brilliant Beast (original by the Manic Street Preachers) - I'm of two minds about David Usher in general - he can be either hit or miss, but this cover with My Brilliant Beast falls in the 'hit' category for me.
Fasinating - Fischerspooner (original by

R.E.M.

) - A highlight from

R.E.M.'

s "Up" album that didn't make the cut and that most people have never even heard. This is obviously very different.
The Spirit of Radio - Catherine Wheel (original by Rush) - For Greg Hoy. This might be as close to a simple rock version of a Rush tune you might ever hear, especially missing Geddy Lee's vocal stamp.
Hyperballad - Glen Phillips (original by Bjork) - I've always thought Bjork's music presented an interesting opportunity to do something a bit different since her songs tend to be unlike just about anything in popular music. Glen unearths a simple ballad in this particular case.
Guilty by Association - Joe Henry with Madonna (original by Vic Chesnutt) - From the second (and last) Sweet Relief album and yes, featuring that Madonna, who apparently happens to be Joe's sister-in-law. The original features Vic and Michael Stipe of

R.E.M.

who produced Vic's first two records.
Paranoid Android - Steven Page (original by Radiohead) - Sufficiently weird and unlike anything the Barenaked Ladies ever produced.
She Don't Use Jelly - Ben Folds Five (original by The Flaming Lips) - The crazy, fun version. Features the vocal talents of all three members of the band along with help from multi-instrumentalist John Mark Painter and his wife, singer Fleming McWilliams.
Wall of Death -

R.E.M.

(original by Richard Thompson) - Probably one of Richard Thompson's most upbeat songs. Originally from the tribute album "Beat the Retreat", this particular song reappeared a few years later as a B-side from the single for "E-Bow the Letter".
All the Young Dudes - Travis (original by David Bowie/Mott the Hoople) - A pretty straight-up cover but Fran and the boys never disappoint. This particular B-side comes from the single for "Side" off their album "The Invisible Band".
That's All - Clare and The Reasons (original by Genesis) - This is one of those cases where the cover is massively better than the original. Still… needs more tuba.
The death of singer/songwriter Vic Chesnutt on Christmas day prompted my revisiting this so it's fitting that he's well represented with two songs. Although there's still more on the cutting room floor, I'll likely move on to something new the next time the urge strikes to do another of these.
Enjoy!