On Monday, August 30th at 11AM, after the well-received launch during Typecon 2010 in Los Angeles, my Ligature, Loop & Stem cohorts and I opened the doors to the general public for our latest labour of love affectionately known as the "Typographic Anatomy Lesson" — or more simply — "Lesson Plan", a new letterpress print designed by myself, Grant Hutchinson and Luke Dorny.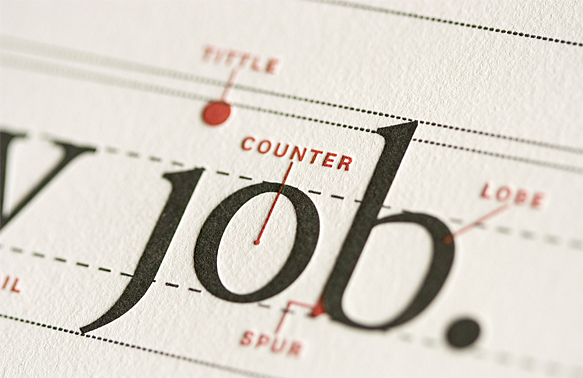 As much as I like to think Grant, Luke, Carolyn and I were all humbled by the overwhelmingly positive reaction last November to the launch of the LL&S site and the now award winning Ampersand print, this time it feels even more gratifying. This one feels like a grand slam.
The amazing (crazy?) part is that we're basically doing this without a plan. We're just following our gut, and having a great time with it. This is a good thing and also means we'll keep at it.
But, before I say any more — I'd like to thank everyone for their time, attention, support, kind words, referrals and of course, purchases.
A very special thanks also to these fine sites whose support is enormous in our eyes.
Their support, along with that of so many other wonderful people on Twitter and elsewhere across the internets, contributed greatly to this print selling out as quickly as it did.
Sold Out. Again.
Yup, you heard right — as of 8:23PM on Friday, September 3rd, all 100 prints are gone.
One of the takeaways from the production of the Ampersand print was to simply make more. So we did. Four times as many actually. Apparently that still wasn't enough though.
Unfortunately, "limited edition" means just that — no second runs. Definitely no third runs. Not unless it was somehow significantly different. Fortunately, plans are afoot already on the next "thing" (or three).
Signed or Not — That is the Question…
The original plan was to sign each and every print, but logistics make that challenging since I'm in Toronto, Grant's in Calgary and Luke's in Los Angeles. Two countries. Three timezones. A shipping nightmare.
What ended up happening was that since we were all attending Typecon, I brought half the prints to be signed. Just half because they were, frankly, very heavy, and it would have been even more risky to squeeze them all into my suitcase. As we got ready for the start of the conference, we ran out of wax after stamping 32 prints, couldn't get more in time, and so it was decided those first ones would be a slightly more special edition. Did I mention we're winging it?
But after chatting with Grant and Luke yesterday afternoon about whether or not we should just sign the remaining prints, we sent an email to everyone who ordered one up to that point and asked their opinion. The overwhelming majority said "yes", but there were a few folks on the fence. So… to keep everyone happy, here's what we're going to do:
The remaining signed prints from the first 32 initially available at Typecon will be shipped as quickly as we can package them up and get them on their way.
For the handful of folks that wanted their prints sooner rather than later and without worrying about it being signed by Grant and I, those will be on their way next.
For everyone else who did want their prints signed, those will be carefully packaged, shipped off to Grant to sign, returned, the wax seals applied, carefully packaged and then shipped out to their final destinations around the world.
Our expectation is that the delay from shipping prints from Toronto to Calgary and back shouldn't take too much more than a week or so but we'll keep everyone posted if that changes significantly.
Next?
As much as we'd love to just hop on the next things right this second, our priority is to get prints out the door as quickly as possible. And so if you'll please excuse me, I have to go print a stack of shipping labels. Err, right after bed.