It's hard to believe it's been about 6 months since the original Typographic Lesson Plan letterpress print by myself and my Ligature, Loop & Stem cohorts was released and started shipping to nearly every corner of the globe.
That the print sold out within 2 days was unbelievable, and the continuous stream of requests for more forced us to consider something that wasn't really even on our radar: How do we reprint a limited edition poster?
Where in the World is the new Lesson Plan?
After some careful consideration, holidays, and dragging of feet, we came up with a plan and Grant came up with a fancy little description — the "second flight."
More recently, the wonderful people who previously signed up for the (reasonably) new mailing list got an early peek at that plan and a tease of what was coming. Today I'm happy to finally tease out all the details.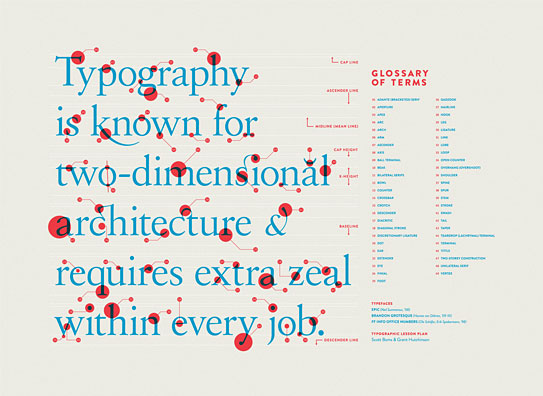 In order to not trample all over the original limited edition, we started from scratch and this "second flight" print has been re-imagined in a number of ways:
Numbered edition of 250
New typeface selections and overall design
New or revised terminology (with alternate terms where applicable)
Significantly larger 22×30 in. print size
Silkscreen printed in three colours on archival quality Somerset 250gsm newsprint grey velvet stock
Lower price point and (we hope) also reduced shipping rates
Prints will be $35 each, less than half the price of the original edition. Pre-orders will start on at 12PM EST on Monday, March 7th with prints shipping as of March 21st (to coincide with the LL&S crew's safe return from SXSW in Austin, TX).
One last, and very special note is that we're going to make 50 un-numbered prints of the "second flight" series available exclusively to educational institutions. A more formal announcement and details on exactly what that means will be coming soon.